Australian Champion LaShadas Xhibitionist
BSCL 1'A' (2:3) 'Z'(0.:0) Excellent Merit
Date of Birth - 8th September 2005
Below is "Tommy"
Available for stud - $900
Frozen semen is also avaliable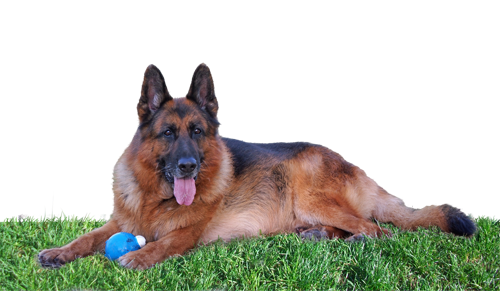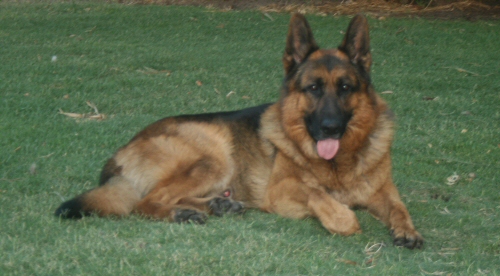 State Sieger April 2009 SBE Western Australia
(Judge: Robyn Knuckey)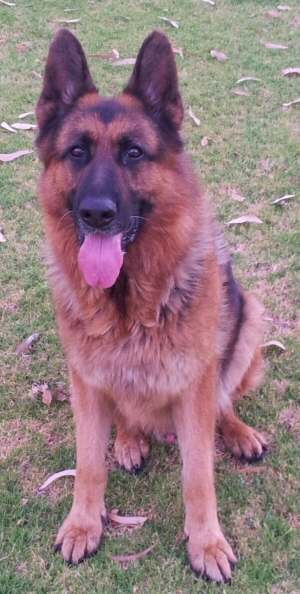 1st Intermediate Dog 2008 National
(Judge: Herr Leonhard Schweikert (SV))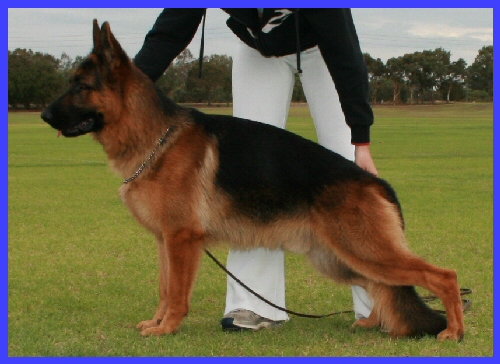 A special thanks to 'Schneeberg' Kennels for taking excellent care of our boy and helping towards his title of Aust Ch.
Tommy gained his Excellent at the 2007 MBE in Adelaide - even being the baby of the class!!
View Tommy's Progeny:
Download 5 Generation Pedigree
Download his Breed Servey Certificate Page 1 and Page 2
................
Tom's mum and dad are below:
SIRE: BSCL 1 'A' 'Z' Excellent Merit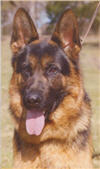 DAM: BSCL 1 'A' 'Z' Excellent Merit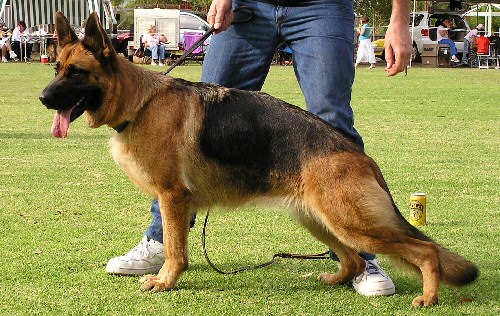 Tom on the march...

Tommy's West Coast Challenge 2006 show critique:

West Coast Challenge (WCC) 2006, Herr Gunther Muller's critique: "Good quality, good pigmentation, substanital, dry and firm. Very good head, high withers, very good overline, very good lay and length of the croup. Correct angulations front and rear. Coming and going is correct. He shows us flowing movement with powerful hind thrust and free reach. Congratulations for this wonderful dog"

Awarded: Best Junior in Show - WCC 2006 - Herr Gunther Muller.

Also awarded: Best Junior in show - Walter Martin Memorial Show 2006 - Fran Farley

*****Intermeditate Dog - WA State Breed Exhibition April 2007

Below: Tommy as a pup...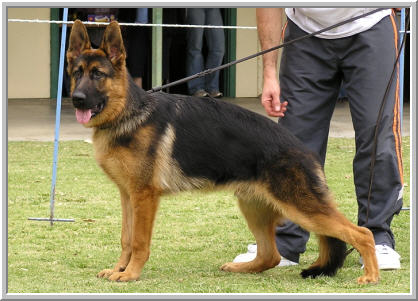 Litter Sister: Australian Champion LaShadas Xquisite 'A' 'Z' BSCL 1 (Squizzy)

Squizzy is loved and owned by Alan Adams (Spellbinda Kennels)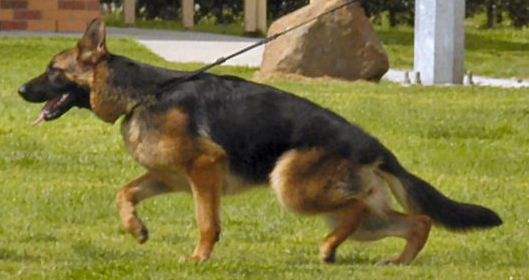 ***** Squizzy (LaShadas Xquisite) won Best Junior of Breed (also Best Junior in Group 5) - Judge - Joylene Neddmeyer, Ballarat (Victoria), 11/2/07.

News flash.....2nd place Intermediate at the Victorian champ show12th/13th May 2007. Judge: Herr Goeke.

Litter Brother: La Shadas Xcellento 'Max'