Aust Ch. Landrina Georgie Girl BSCL 1 A Multi Exc
(Saba)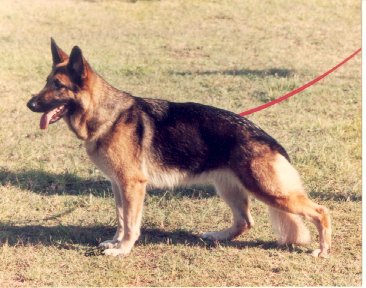 23.3.82 to 19.8.95
Sire: *Vorlich Amigus
Dam: *Duval Royal Velvet
Litter mates: Landrina Sir Benjamin BSCL 1 Exc & Landrina Black Velvet BSCL 1 Exc
Saba
This wonderful girl was entrusted to us by Ray and Alice Lamb of Landrina Kennels and she is the foundation bitch of our kennels. The predictability of type and quality that she produced meant that we could always expect a high percentage of show quality pups from each litter. Her lineage continues in her progeny of excellent producing animals.
We are sure our gentle girl, Saba, watches over us and we are forever greatful to our mentors and friends Ray and Alice for giving us such an easy and exciting start into breeding and showing.
Some of Saba's Progeny:
Landrina Haleys Comet BSCL 1 Exc
Landrina Philanderer BSCL1
LaShadas Ablaze, Angelic Destiny BSCL 1 Exc
LaShadas Baroness Zeta BSCL 1 Exc
LaShadas Crystal Heart BSCL !! Exc
Grand Children:
LaShadas Love Struck, Linga Longa, Lord Muck BSCL 1
Great Grand Children:
BSCL1 A Z Exc Merit

BSCL1 A Z Exc Merit

Great, great Grand Children:
LaShadas Utopian Dream
BSCL1 - Excellent Merit
LaShadas U Doll BSCL1 - Excellent Merit and Silver Medal Winner at the 2007 National (Sydney).
and on it goes...............